Music Professional

For Instrumental Teachers
A vibrant modern resource for professional instrumental music teachers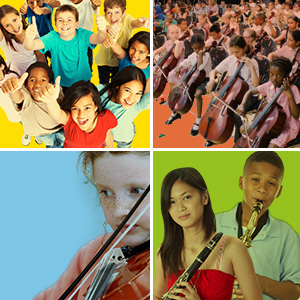 Today's instrumental teacher is an ambassador for the Music Service and the public face of the Music Education Hub. More than ever before, instrumental teachers are required to see their work in the context of the national curriculum and the wider needs of the schools in which they teach.
With a highly regarded CPD and training package, Music Professional is an essential resource for every teacher and a valuable investment in workforce development for the Music Service and Hub.
State-of-the-art teaching resources
Music Professional provides state-of-the-art music teaching resources embedded in the very latest educational technology.
It also includes a complete online music world for children that enables them to continue learning between lessons while teachers can track their progress.
The new National Curriculum and teaching in school
Music Professional promotes an awareness and understanding of the new National Curriculum. As well as performance materials that encourage instrumental and classroom teachers to work together, a wealth of classroom materials ensure instrumental teachers can take a rounded approach.
Charanga enables everyone to enter the 3 dimensional world of learning; it brings the notes off the page and encourages a spirit of enquiry that is refreshing and inspiring to children for whom music is not an option in their life — it's essential.

— Maureen Hanke, Head of Norfolk Music Service
The people at Charanga are fantastic to work with and are impressively informed about organisational transformation in music education. The Hub is proud to have Charanga as one of its delivery partners.

— David Little, Head of Wigan Music Service, Greater Manchester Music Hub
Instrumental Music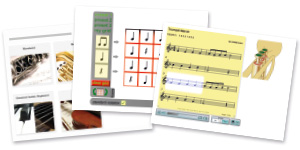 The instrumental music section is an inspiring and extensive resource for instrumental teachers teaching children in the early stages of learning. All of the resources can be used online or downloaded for use in every music setting.
Pieces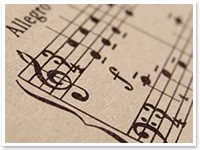 Simple interactive pieces for many different instruments with highlighting notation and animated instruments, both synchronised with a backing track. These are ideal for beginners and for teaching large groups.
Music Medals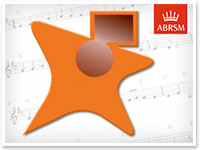 Beginner level assessments for small instrumental groups with solos, ensemble pieces and listening tests. The interactive Music Medals resources have been developed with ABRSM, the world leader in musical assessment.
inspira®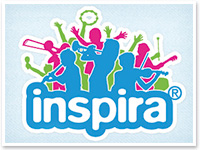 1-year beginner programmes for large-group instrumental teaching. Individual and mixed instrumental ensembles are supported. All 36 lessons in each inspira® programme come with interactive whiteboard resources and lesson plans. inspira® has been developed over several years and is used with great success in WCET teaching across the UK.
inspira® Pops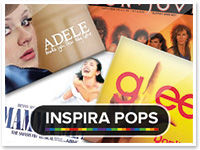 Flexible 6-week programmes for singing and playing. All the songs have differentiated beginner instrumental parts for a wide range of instruments. These Units work very well for large groups and provide attractive performance material.
Music World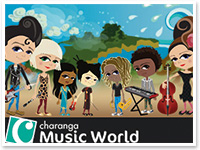 These interactive resources are taken from the magical online Music World section of Music Professional that children can use to support their music learning between lessons. For teachers, these interactive pieces and printed materials provide attractive material to support children through the early stages of learning.
First Time Live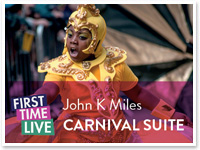 This song and instrumental performance piece is based on a carnival theme and provides an opportunity for beginner instrumentalists to play with a professional or youth chamber orchestra. The interactive resources make learning fun for the instrumental beginners and sitting down side-by-side with more advanced musicians to perform the work is wonderfully inspiring.
BBC Ten Pieces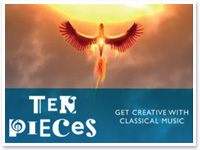 An exciting new BBC led initiative for primary schools focusing on classical music and creativity. Charanga has produced a lovely set of interactive Listen and Appraise resources around each piece of music that can be used online or downloaded.
Classroom Music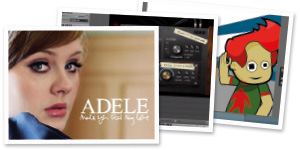 With the Charanga Musical School Programme Charanga Music Professional's Classroom Music section is based entirely on the Charanga Musical School programme that is now used by almost 7000 primary schools in England. It provides premium resources to help make day-to-day music teaching a rich and rewarding experience for children and young people as well as for teachers. There is a lot to explore!
Scheme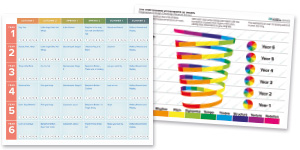 For children aged 5 – 11 the Scheme provides a progressive spiral of learning with planning support and all the interactive resources you would need right at your fingertips. Children sing, play, improvise, compose and perform and the week-by-week lessons are a great basis for a modern music curriculum with integrated instrumental work.
Freestyle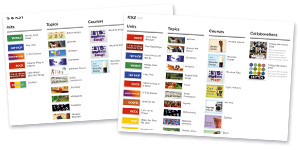 The flexible approach enables you to create your own music plan and encourages opportunities to make music across the curriculum. The interactive resources are clearly grouped by age and application.
FS & KS1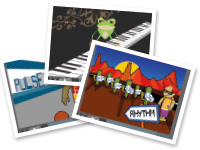 In addition to the wealth of well-known nursery rhymes, chants, songs and related activities, the learning within the Units equips the children with the initial foundation stones of musical understanding.
KS2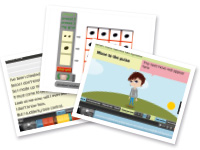 Building on the skills that have been acquired previously, the resources for this age range are more complex both vocally and instrumentally. The Units and range of materials deepen and develop understanding, and encourage exploration and a growing familiarity with a wide range of styles and genres.
KS3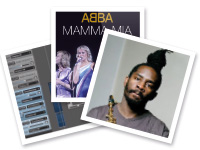 To develop and cultivate a creative and personalised approach to musical learning, the resources in this section provide a rich bank of activities and starting points. These include transitional Units and inspirational video interviews with modern composers explaining their creative processes.
My Workspace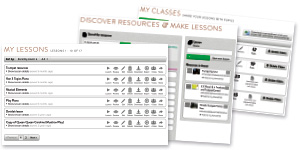 Create, store and share your lessons.
My Workspace is the place to create, store and share your lessons. It's a bit different to other areas of the programme. As you become familiar with how to use My Workspace you will find it saves you time on preparation and gives you the means to extend your students' learning beyond the classroom and teach their progress.
Music World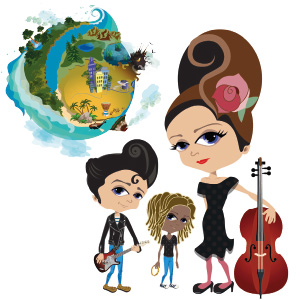 Support and encourage practice between lessons.
Music World is a safe online space within Music Professional where children and young people can go to learn, explore and develop playing and musicianship skills as they begin learning musical instruments with their teacher.
It's a magical world of avatars and music activities where children earn coins and badges as a reward for completing musical tasks.
As a teacher you can make anything from Music Professional appear within a child's Music World so children can work on specific things you would like them to learn.
Training and CPD
I would like to thank you for such a wonderful and inspiring Music Training Course last week. It re-ignited my love and passion for teaching music.

— Helen Millington, Lancashire Music Teacher
Charanga's Music Professional Training and CPD programme is very highly regarded by Music Services with over 40 having run sessions over the past 12 months. The programme has been devised by Charanga's Education Director Madeleine Casson and trainers are all very experienced teachers.
Advanced Charanga Training
Teachers who are experienced users of Music Professional have invariably gained a deep understanding of the pedagogical implications and are ideally placed to support others in their own Music Service area and beyond.
Charanga runs advanced Charanga training for small groups of teachers who might wish to become local trainers and meet the demand from the ever-growing numbers of teachers and schools using Charanga programmes for the first time. Advanced Charanga trainers are a valuable asset for the Music Service and Hub.